GESIN is a standard of TCM products and service, it guarantees TCM products and its service mostly in original level, that means it guarantees good quality including the effectiveness and safety of TCM products and service.
GESIN stands for Geoherbalism, Effectiveness, Safety, Individuation and Nature.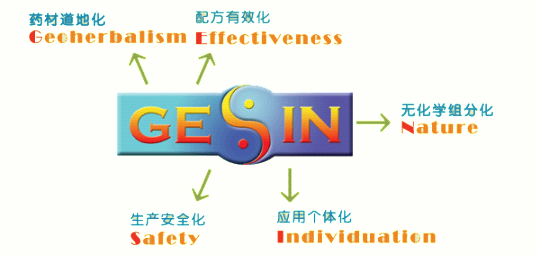 Geoherbalism:
Our products ingredients some need the raw powder, some need the extracts of the herbs. For the herbs of these two forms, we all select authentic herbs or geoherbs seriously to guarantee their quality and effectiveness. Geo-means high quality and good effectiveness! What is geoherbs or authentic herbs?
Effectiveness:
All our products ingredients or formulas are selected under clear and precise history record matching the products' actions and indications. In this way to guarantee products are effective and long history application, nothing is stronger than long history application to prove.
And also we study and collect morden research about its effectiveness and toxicity, never exaggerate the functions.
Safety:
We guarantee our products to be safety by three ways:
Firstly, some herbs are toxic, can not be taken or can not be taken in long time. When we select the herbs, we give up all toxic herbs though some herbs are very effective for the diseases.
Secondly, all our products are created under GMP, QS, and HACCP condition.
The Third, we do determination of heavy mental for every herb and every batch, and do biocidaltreatment seperately.
Individuation:
Pattern identification and treatment, individuation is the key of Traditional Chinese Medicine, it refers to different peole different formula, different time diffrent formula, different seasons different formula to guarantee treatment is correct, effective and the most reasonable!!!
We realise this by the way below:
The products in bulk production are impossible to work for everyone, the people whom our products do not work for can load Qingdao HESHOUTANG International TCM Treatment Center to accept our complete treatment plan in TCM way for individuals, our TCM doctors will give comprehensive diagnosis and individual treatment plan; and also people can load our BBS to get the personal advice for health affairs.
Nature:
All our products are 100% herbal, no hormone and chemicals, no preservatives, no artificial colors, no caffeine. At present time, many herbal products suppliers and manufacturers claim 100% herbal products, but chemicals and hormones added, they damaged TCM reputation and misleaded world people's awareness in TCM. So this term "Nature" is set up to against lies on TCM business.
GESIN is a rule to guarantee TCM products are authentic, effective, safe and reliable, and also the customers benefits, it will protect world people to share 5000+ years history's TCM power!!